Imagine you are a data scientist for a business to business technology company. You are responsible for turning data into meaningful customer information that can be utilised by other groups in the organisation to make data driven decisions. So how are you supposed to integrate large amount of multi-channel data when it's typically siloed across the organisation in various systems? The answer is the Data Workbench capability of Adobe Analytics.
How Does Data Workbench Work?
The Adobe Analytics Data Workbench capability gatherers an organisation's online, offline and 3rd party data into one place for a comprehensive 360 degree view of their customers. All of this data combines for a higher resolution view and better understanding of an organisation's customers so business users can predict the success of their campaigns and maximise the impact of their ad spend. Best of all, this robust functionality is built-in, making it accessible to various stakeholder groups.
It's a challenge to take in and combine on and offline data sources and without that integrated view, organisations struggle to get a good picture of their customers.
The Data Workbench capability quickly combines and processes data sources, so marketers can refine their customer profiles. By better understanding their customers, business users can deliver them the right content, through the right channel, at the right time, increasing rates of conversion.
Without a complete picture of an organisation's data, marketers are left uncertain on how or if potential customers are likely to respond to their efforts. Data Workbench gives marketers predictive capabilities such as engagement scoring and scenario analysis, to help them understand likely customers responses to new efforts before those efforts even launch.
And with powerful data pattern discovery, Data Workbench can identify hidden behaviours and recognise patterns among big data. These features of the Data Workbench capability give decision-makers the confidence to make safer, more efficient investments in customer outreach.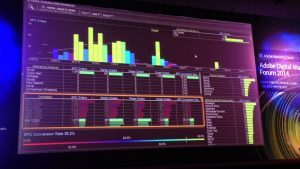 Adobe Analytics combines data from third party channels, online and offline, to give organisations real-time insights into campaign performance and customer behaviour across channels. The Data Workbench capability comes with all implementations of Adobe Analytics Premium, full integration with the other capabilities of the solution, and integration with the other solutions of the Adobe Marketing Cloud.
Data workbench combines organisation's multi-channel data with offline customer interactions for the control and insights business users need to optimise customer engagement.
Goji provides consulting, training, support and implementation services to Australian and New Zealand organisations in Adobe Analytics, as well as other platforms in the Adobe Experience Cloud and Google Analytics. If you would like to discuss our services, use our contact form and tell us your story.
View More Adobe Analytics Features