The Adobe Analytics Workspace is a drag and drop style custom report builder, with a beautiful design, easy to use features and easily accessible dimensions, metrics and segments.
How might we use the Analysis Workspace? Imagine you are an editor for a digital publication that caters to the millennial lifestyle. You need to understand how visitors find and engage with your site, as well as what content is consumed. However, most analytics tools are either too limited to glean useful insights from huge amounts of raw data, or too complicated for everyday users.
So how can you empower yourself and your team members to utilise analytics and improve decision-making, without being overwhelmed? With the Analysis Workspace capability of Adobe Analytics.
Analysis Workspace is a flexible, project-based environment where even business users not trained in data analytics can use intuitive tools to find and share insights about their visitors and customers.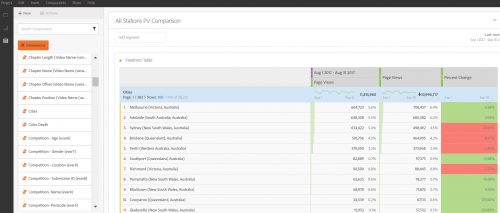 Analysis Workspace enables business users and data scientists alike to build reusable projects that are customised to their unique questions and role-based workflows. They can easily blend different views of data to tell a powerful analytics story, removing the guesswork from decision-making.
As data and marketing programs become more complex, non-technical business users struggle to understand how to surface insights from attributes and behavior data for their most important visitors. Even seasoned analysts struggle with the constraints and complexities of analytics tools.
Analysis Workspace delivers the right tools for the job—freeform tables, cohort analysis, attribution, pathing, and more—all in drag-and-drop fashion, so analysts and business users can transform raw data into a compelling story that's easy to understand.
Existing analytics tools are too slow for the modern marketing analyst and business user. Analysis Workspace is built for speed with features that make it accessible to even non-data analysts.
Without extensive technical knowledge, users can perform real-time analysis directly from the digital property, compare multiple reports—including mobile segments and usage—and explore their data to find the answers they need when they're needed. Complex breakdowns of large amounts of data are not a problem for Adobe Analytics.
How powerful are insights if they are limited only to the individual who discovers them? Analysis Workspace was built for collaboration, so users can curate and share projects throughout their team and across the orginisation, ultimately driving better, data-driven decisions and increasing business performance.
Adobe Analytics combines data from online and offline channels to give organisations real-time insights into campaign and website performance and customer behaviour across channels. The Analysis Workspace capability comes with all implementations of Adobe Analytics, full integration with the other capabilities of the solution, and integration with other solutions of Adobe Marketing Cloud.
Analysis Workspace enables business users to explore their visitor data in real time to improve decision-making by curating projects and sharing insights will all applicable teams.
Goji provides consulting, training, support and implementation services to Australian and New Zealand organisations in Adobe Analytics, as well as other platforms in the Adobe Experience Cloud and Google Analytics. If you would like to discuss our services, use our contact form and tell us your story.
View More Adobe Analytics Features