Imagine you are a digital marketing director for a global retailer. Within a single journey, one of your customers could visit a store, open an app, view a few videos, make a purchase, and mention your brand on social media.
How do you know which channels and associated content are most effective for your customers to research, purchase, and make recommendations to friends? Which of your marketing campaigns are effective? How can they harmonise with other business efforts?
Before you can answer any of these questions, you need a way to make sense of the enormous amounts of data scattered across your organisation to develop a holistic view of your customers.
What Are the Benefits of Adobe Analytics?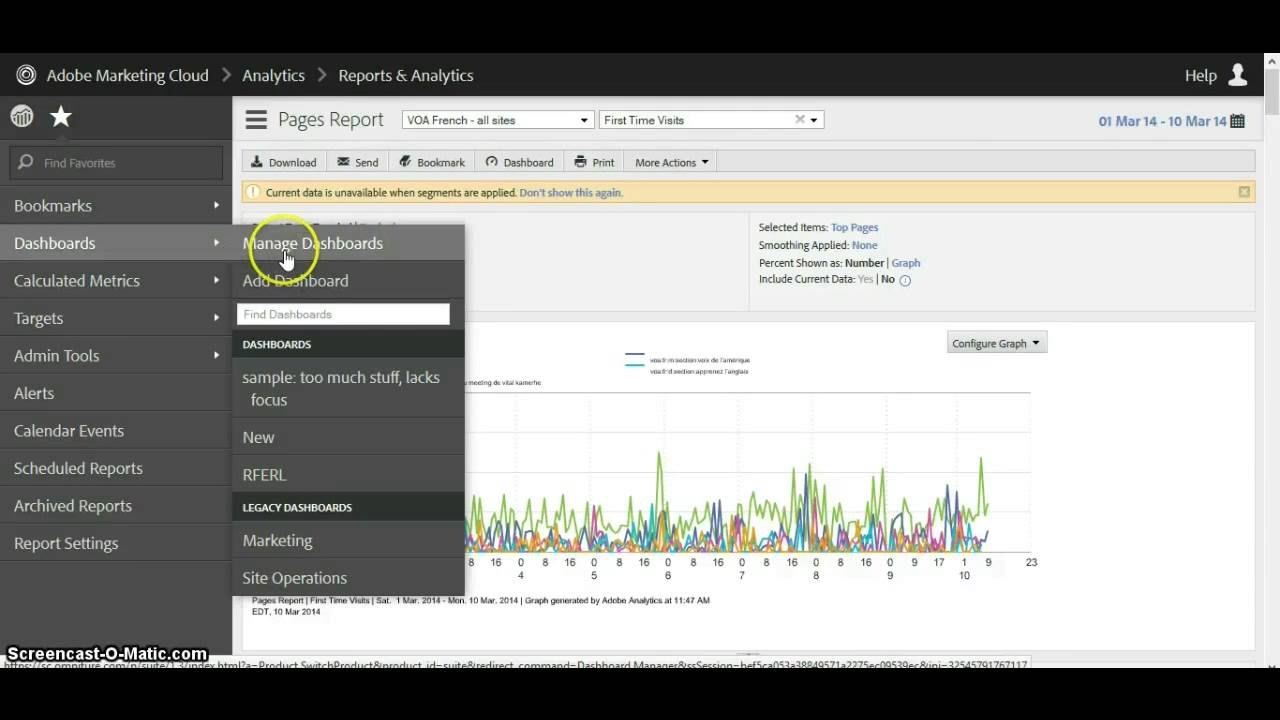 Adobe Analytics brings together data from online and offline customer channels and reveals the hidden patterns within large amounts of data, giving organisations real-time insights into how their campaigns perform and customers behave across channels.
Equipped with this data, organisations can align customer campaigns with business goals and optimise their customer engagement to determine the best allocation of their marketing budget, all while delivering the relevant online experiences that drive conversion.
Traditionally, digital teams have led the charge on data-driven marketing because digital mediums provided data others couldn't. As marketing has matured in the digital age, print, creative, and other groups have a new appetite for following digital's lead in incorporating data into their decision-making.
They're looking for powerful yet accessible analytics to deliver meaningful customer insights that can be acted upon immediately—often automatically—eliminating the expensive habit of guesswork.
The reality of a mobile, socially engaged, and multi screen world has led to a customer base that expects personalised, relevant content, regardless of the device they're using and tailored to the context in which they engage with your brand (such as location and time of day).
Integrating rich first-, second-, and third-party data sources helps businesses better understand their customers so they can present a unique, consistent user experience across devices.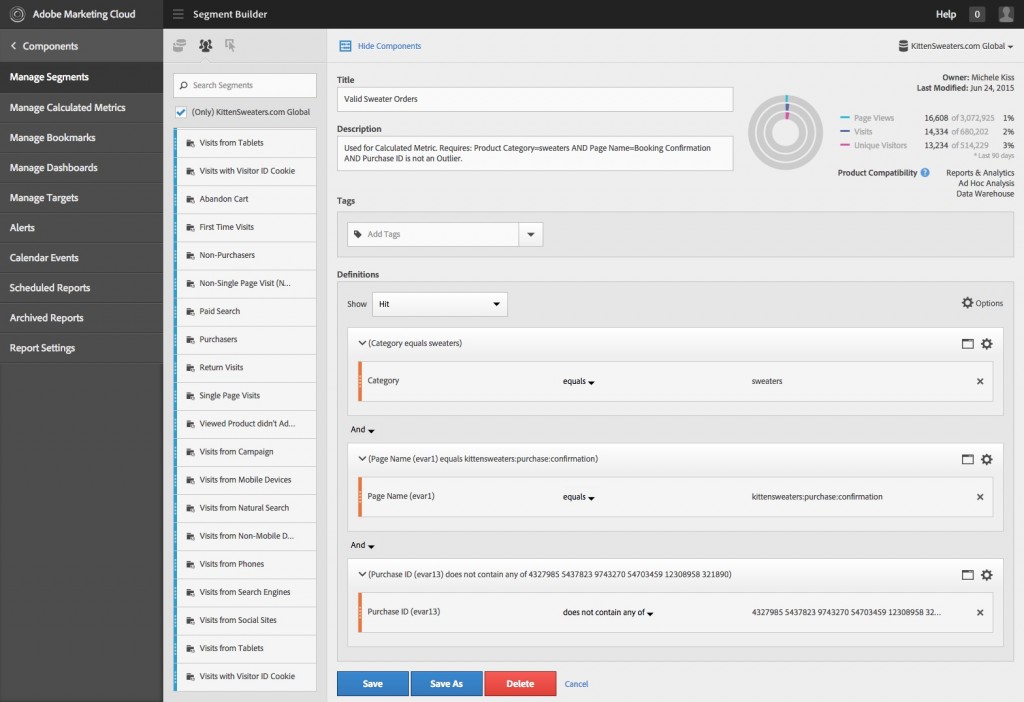 As the number and types of data and sources continue to grow, it becomes increasingly difficult to discover meaningful patterns in Big Data.
Many organisations amplify this problem by structuring their teams in silos, creating walls around data. It's crucial that organisations have the means to gather and visualise all these sources, so they can collaborate across the organisation to produce timely insights into customer behaviour and accurately attribute value to their customer campaigns.
Next, let's take a quick look at the capabilities that make up the Adobe Analytics solution. 
Adobe Analytics Tools and Features
With Reports & Analytics, Adobe Analytics users can see and access campaign data in a single place, easily create customised dashboards to explore and gain insights into their data, and communicate that information with robust reports and dashboards.
The Adobe Analytics Ad Hoc Analysis capability gives organisations the control over real-time visitor data to build high-value customer segments and understand how they interact with an organisation's site and digital assets. Once business users know who their customers are and how they engage with their brand, they can explore and share those insights to optimise their business strategies.
The Adobe Analytics Data Workbench capability gathers an organisation's online, offline, and third-party data into one place for a comprehensive, 360-degree view of their customers. All of this data combines for a higher resolution view and better understanding of an organisation's customers, so business users can predict the success of their campaigns and maximise the impact of their ad spend. Best of all, this robust functionality is built in, making it accessible to various stakeholder groups.
Data Connectors integrate Adobe Analytics with third-party applications so business user can break down data silos and create a multi channel analytics platform. For example, email campaigns may reach a wide audience and draw new visitors to a site, but once the visitor clicks the email link, there's no continued data.
Dynamic Tag Management's robust and intuitive interface enables easy deployment of data collection to digital properties organised and distribute business- specific marketing data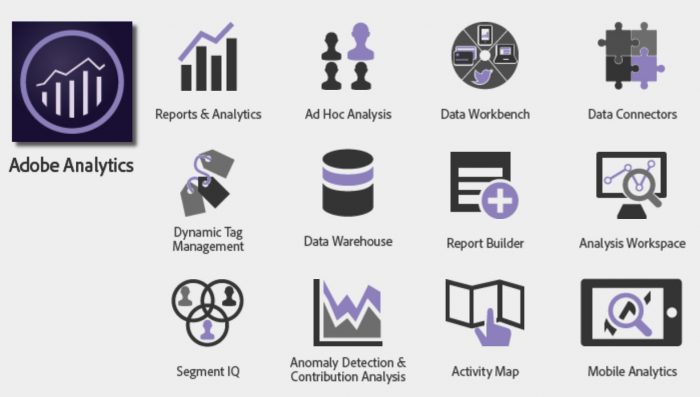 The Data Warehouse capability is a repository for granular-level customer data that offers extended storage, data reprocessing, and reporting capabilities. Data Warehouse stores all of an organisation's long-tail data, enabling business users to return to it any time—even months or years later—so organisations can identify and capitalise on long-term trends.
The Report Builder capability combines real time data from Adobe Analytics with the Ubiquity of Excel so marketers can easily create, customise edit and distribute reports
Analysis Workspace is a flexible, project-based environment where even business users not trained in data analytics can use intuitive tools to find and share insights about their visitors and customers. Analysis Workspace enables business users and data scientists alike to build reusable projects that are customised to their unique questions and role-based workflows. They can easily blend different views of data to tell a powerful analytics story, removing the guesswork from decision-making.
The Segment Building capability of Adobe Analytics compares audiences against each other across all of a company's metrics, dimensions, and segments in order to discover the significant differences and insights driving KPIs. Using this information marketers and analysts users can more easily gain visibility into which segments are most important to their business—and more importantly, why those segments are important—so they can acquire customers more efficiently.
Combining the Anomaly Detection and the Contribution Analysis capabilities of Adobe Analytics enables companies to intelligently identify the hidden patterns and contributing factors for statistical anomalies in their raw data. By quickly analysing analytics data, it can save countless hours searching for reasons why company metrics may have changed. Contribution Analysis leverages powerful machine learning designed to transform the analyst and marketer into a data scientist.
The Activity Map capability of Adobe Analytics enables analysts and business users to easily view traffic, conversion, and success metrics for individual page elements, such as buttons, banners, advertisement, and hotspots. Activity Map puts usage and interaction data in context, overlaying visual representations of each element's performance directly on the webpage or digital property. Using real-time, contextual insights into individual elements of visitor experiences, marketers and business users can easily fine-tune their digital properties to drive the right message to the right audience to increase engagement and conversions.
The Mobile Analytics capability of Adobe Analytics is a comprehensive measurement and reporting solution that lets organizations directly measure and report the effectiveness of their mobile app investment. It provides easy-to-use, integrated app analytics and messaging capabilities to help mobile teams understand user behaviors, optimize app experiences to user preferences, and target content to improve user engagement.
Why Adobe Analytics?
Adobe Analytics is all about customer intelligence—bringing data science to the masses, so organizations have the insights they need to create compelling, relevant, and efficient customer experiences. Adobe Analytics comes in a variety of solution offerings to meet the unique needs of any organization, with powerful capabilities that offer companies a deeper, more comprehensive understanding of all their business and marketing initiatives.
About the Author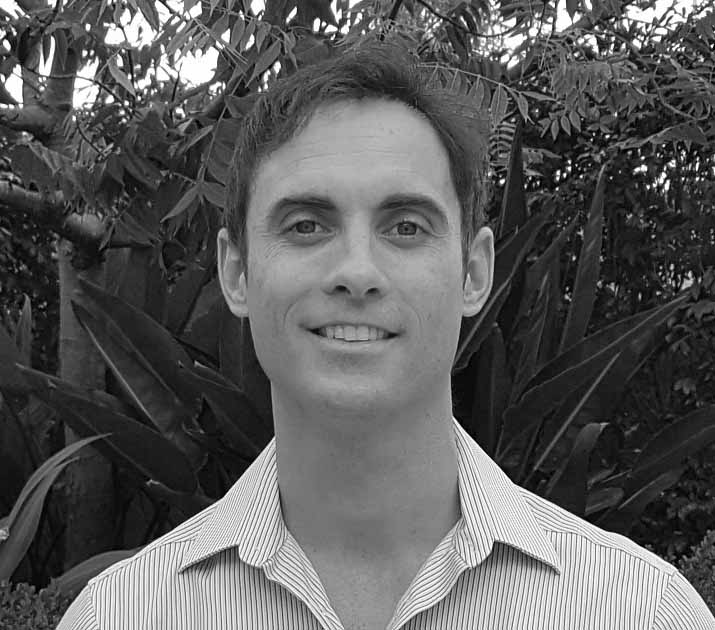 Matt Murfitt is Director of Data and Analytics at Goji. He specialises in Search, Analytics, Display, Social and Personalisation across a broad range of industries. He has a passion for data-driven, customer acquisition and improving the customer journey. He is qualified in both Marketing and Psychology and routinely works with brands both big and small to increase their web traffic, leads, improve customer experience and collaborate across new and challenging projects. His passion for technology is rivalled only by his curiosity of what it's capable of to improve our lives.
About Goji
Goji is one of a select few specialised Adobe Partners in the Asia Pacific region. We solve two key challenges for our clients:
Selecting and integrating Adobe platforms that maximise profitability, efficiency and customer experience
Providing managed services to successfully advertise, personalise, analyse and optimise company web assets
Platforms we specialise in include:
Adobe Analytics
Adobe Audience Manager DMP
Adobe Advertising Cloud – across Video, Search, Display, Programmatic
Adobe Target
Make contact to start a conversation about how we can help you achieve your goals.
View More Adobe Analytics Features