Imagine you are a digital analyst for a global retailer and are responsible for identifying opportunities to increase online purchases. How are you supposed to maximise the value of your marketing efforts when the smaller opportunities are buried in terabytes of data? With the Adobe Analytics Data Warehouse capability.
The Data Warehouse capability is a repository for granular-level customer data that offers extended storage, data reprocessing, and reporting capabilities. Data Warehouse stores all of an organisation's long-tail data, enabling business users to return to it any time—even months or years later—so organisation can identify and capitalise on long-term trends.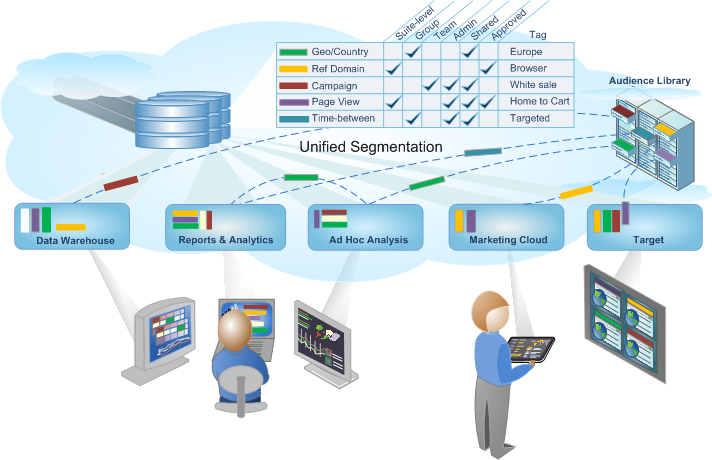 Seasonal changes mean it's time to promote seasonal merchandise, like hiking boots in the spring and wool hats in the winter. But businesses with deep product catalogues also need to identify the value in smaller, steady opportunities behind the hot, new items. The Data Warehouse capability helps organisations discover those incremental opportunities buried in months and years of data so they can maximise the value of their customer intelligence.
Often marketers and analysts will discover a new piece of information that affects ongoing business strategies. But without access to their historical data, business users can only guess at its true impact as they go forward. The Data Warehouse capability houses months and even years of an organisations raw, historical data and provides the functionality to reprocess reports with updated dimensions so decision-makers can act with confidence in launching and revising customer campaigns.
Adobe Analytics combines data from online and offline channels to give organisations real-time insights into campaign performance and customer behaviour across marketing channels. The Data Warehouse capability comes with all implementations of Adobe Analytics, full integration with the other capabilities of the solution, and integration with the other solutions of the Adobe Marketing Cloud. Data Warehouse stores granular-level customer data and automates reports on that data.
Goji provides consulting, training, support and implementation services to Australian and New Zealand organisations in Adobe Analytics, as well as other platforms in the Adobe Experience Cloud and Google Analytics. If you would like to discuss our services, use our contact form and tell us your story.
View More Adobe Analytics Features