Imagine you are a merchandiser for a major online retailer. You have thousands of SKUs and multiple purchase paths across your digital properties that can be accessed by many different devices, presenting a staggering amount of purchase options in a variety of categories. It's up to you to determine the effectiveness of product categories and placement to increase average order size and eliminate steps in the path to purchase.
How Activity Map Works
The Activity Map capability of Adobe Analytics enables analysts and business users to easily view traffic, conversion, and success metrics for individual page elements, such as buttons, banners, advertisement and hot-spots. Activity Map puts usage and interaction data in context, overlaying visual representations of each element's performance directly on the webpage or digital property.
Using real-time, contextual insights into individual elements of visitor experiences, marketers and business users can easily fine-tune their digital properties to drive the right message to the right audience to increase engagement and conversions.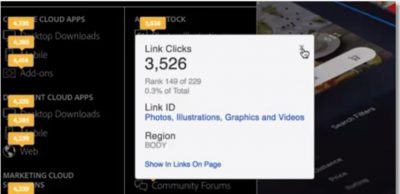 Large tables of big data can be hard to understand, particularly for non-technical marketers and business users. Activity Map puts raw data into context, with an intuitive, easy-to-use interface that overlays important information directly on the webpage or digital property.
Marketers, business users, and analysts can easily interact with individual elements to change the information displayed, so they can make the right decisions about optimising pages, properties, and assets.
Visitors respond differently to various page elements, depending on who they are, which digital property they're visiting, or even how they linked to the digital property in the first place.
Activity Map doesn't just present an aggregated view of everyone who has visited the page; it has powerful segmentation tools that allow companies to see how different types of visitors respond to different page elements.
Users can break out results based on audience segments—such as first-time visitors, people who linked from social media, or a host of other segmentation criteria—to improve experiences for various audiences and reduce friction on the way to conversion.
In the speed of business, minutes might as well be days. Most organisations lack tools that enable their marketers and business analysts to view customer data as it happens. Activity Map provides real-time context for websites and digital properties, so business users can quickly identify which elements are performing well—or not all— respond immediately to improve performance and reduce visitor loss.
Adobe Analytics combines data from online and offline channels to give organisations real-time insights into campaign and website performance and customer behaviour across channels. The Activity Map comes with all implementations of Adobe Analytics, full integration with the other capabilities of the solution, and integration with other solutions of Adobe Marketing Cloud.
Activity Map enables marketers and business users to explore visitors' interactions, traffic, conversion, and pathing in real time to better optimise websites and digital properties.