Dynamic Tag Manager or DTM for short, is Adobe's tag management platform, compatible with other products across the Adobe Experience Cloud.
How would you use it? Well, imagine you're a digital analyst for a financial services firm. You are responsible for collecting data about campaign performance and customer engagement, while also delivering personal experiences to visitors. Unfortunately all the tags on your sites require a significant time investments to test, implement and maintain.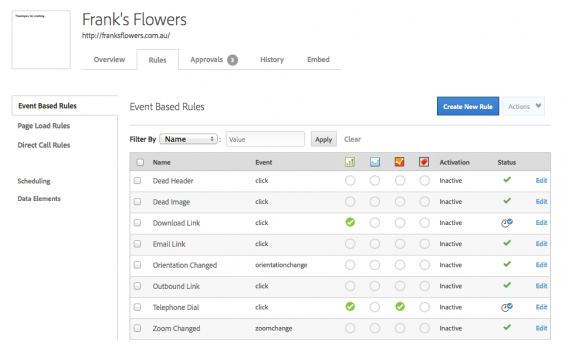 How are you supposed to effectively manage your data in time to react to new and changing information? With Adobe Analytics' Dynamic Tag Management capability.
Dynamic Tag Management's robust and intuitive interface enables easy deployment of data collection to digital properties to organise and distribute business specific marketing data.
The Dynamic Tag Management capability provides rules driven tag execution, giving organisation's increase control over the data they capture. They can easily and precisely define specific types of data and events they want to collect and where it should be distributed.
Traditionally IT been responsible for tagging sites, leaving business users dependent on their processes and long queues. The Dynamic Tag Management capabilities intuitive interface assists organisations in taking control of data collection.
Once they have determined the data to be collected, the system automatically gathers and deploys the relevant tags to their digital properties without resorting to IT resources.
Major sites often have dozens of tags from different applications and this places a significant burden on IT resulting in long waits to code, test and deploy each of those tags. Now business users can use dynamic tag management's rules driven tag execution to define what data will be collected and how will be distributed so they have the data they need, when they need it.
Adobe Analytics combines data from online and offline channels to give organisation's real-time insights into campaign performance and customer behaviour across marketing channels.
The Dynamic Tag Management capability comes with all implementations of Adobe Analytics, full integration with the other capabilities of the solution and integration with the other solutions of the Adobe Experience Cloud.
It is also available to Adobe Experience Cloud customers at no additional cost. This capability provides business users with easy and powerful tag management for data collection and distribution to other applications.
Goji provides consulting, training, support and implementation services to Australian and New Zealand organisations in Adobe Analytics, as well as other platforms in the Adobe Experience Cloud and Google Analytics. If you would like to discuss our services, use our contact form and tell us your story.
View More Adobe Analytics Features