Its always been the one thing that our analytics programs can't tell us. Who is looking at our website. Not their age, gender, or time of day – all common dimensions in Google, Adobe or Web Trends technologies. But who are these people, information that could be used to tap lead sources, track targeted companies on our site, or see if our competitors are viewing our content.
With a little know-how, you can now get a lot of insight using one of Google Analytics' little known features embedded within it's standard version.
Here we show how we helped one client understand what their competitors looked at on their site, for how long, what they clicked on, and what they engaged with. Of course, you can apply this tool to see which companies looked at your site in general. But for this process, we are focusing on your competitors in particular.
Thinking about giving it a try? Follow these steps to check out who is looking at your website.
Step 1. Write a list of your competitors
We started by getting a list of top 30 competitors. They consisted of the top 30 firms in the same industry vertical. It was no surprise that we found many of these companies in our reports.
Step 2. Open Google Analytics 
Once you have opened Google Analytics for your company website, go to the left hand side menu. Find Audience > Technology > Network.
Step 3. Incorporate the Network Domain
The Network reports alone will give you some clues as to where they users are coming from, but the Network Domain should hopefully supply a little more context. To do this, select the "Secondary dimension" button above the data table (refer to the image to the right).
Type in "Network Domain" and select the option that appears.
This will produce a second column of data that shows more information about the origin of users that come to your website.
From here, you can review the companies that show up. You will only find companies who are on an isolated network here, which many companies (and presumably many of your competitors) are. You are also likely to find many telco's. These ones are generally fields to ignore – and its possible that you are unable to extract enough meaningful information from the leftover listings. However, if you receive a lot of traffic – say over 100 sessions per day – you are likely to pull more useful stats, and can read on.
Step 4. Isolate Your Competitors 
This step involves combing through the list to see where potential competitors may appear. For our case study we were able to identify around 18 competitor firms out of the top 30 in the country.
You may find it easier to export the list into a CSV format to preserve or share the data at a later date. To do this, use the "export" feature at the top left hand area of the screen, shown here: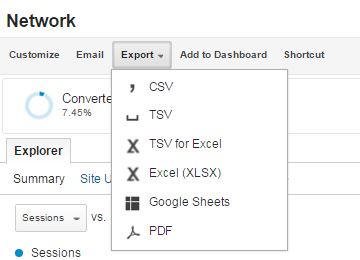 Step 5. Build Custom Segments for Each 
This will allow us to see the activity for each competitor separately, or all of them combined.
To build a custom segment, click on the + Add Segment button above the data table, then hit New Segment.
Go to Advanced Conditions  in the left hand menu.
Give your segment a name, preferably using a naming convention that is easy for you and others to understand later on, well after you have created these reports. I recommend using the naming convention:
Competitor 1: (Organisation's name)
Select Ad Content and type in Network Domain. Select this, and type in the Network Domain entry for your identified competitor from your initial report. If you exported this information, it should be apparent in the Network Domain column of your CSV file.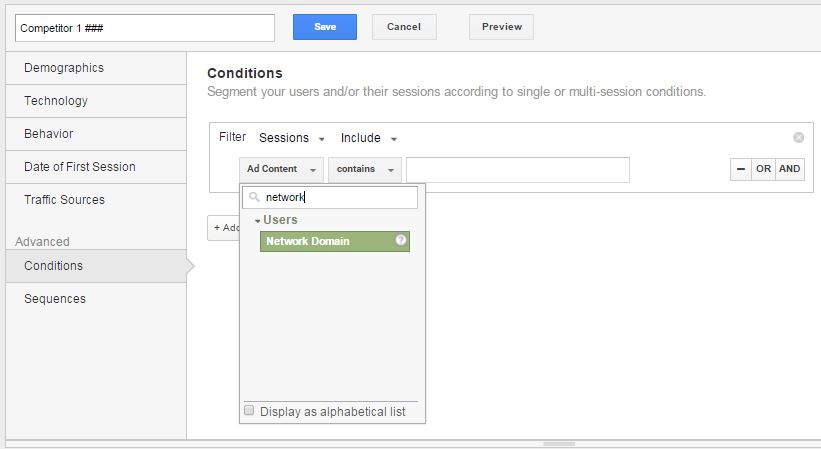 Once this is inputted, select save – and this competitor is saved as a separate segment. Repeat this step for every competitor you can identify in your first report.
Step 6. Analyse Engagement & Behaviour
Now that we have our competitors separated from the rest of our web traffic, we can select either all of these segments and analyse their traffic movements. To do this, click to Add Segments and tick the segments you wish to compare.
Here are some reports that we recommend:
Competitor User Flow
Select one or several of your new competitor segments and navigate to Audience > User Flow  to view the traffic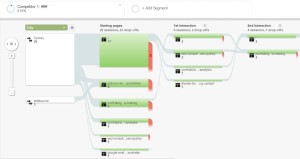 movements of your competitors as they move through your website, including landing pages drop-offs and click-throughs.
All Pages Report
Providing more context around each page viewed, including bounce rate, time on page and the number of individual sessions, the All Pages report allows us to delve deeper into how these users engaged with our content.
To find this report head to Behaviour > Site Content > All Pages.
Site Search
What were they specifically looking for? Alongside the Search Queries report in Acquisition > SEO, you can look directly at what they typed in to search for on your site. Reading your competitor's intentions don't get more specific than this! To find the site search report head to Behaviour > Site Search. If this area is empty, you may need to enable it in your View Settings in your Admin panel.
Competitor Engagement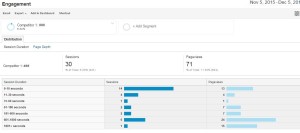 Looking at GA's engagement reports allows you to see how long all users from one or more of your competitors were on your site and how many pages per session – a good overall engagement snapshot.
Try Downloading this Custom Report
All a bit much? Feel free to download Goji's – Spy on your competitor custom report and attach to your Google Analytics view.
If you are only interested in your competition, remember to include only your competitor's Network Domains!
How to do that? Simply replace your competitor names in the string below, and copy/paste it into the Advanced Filter field above the data table (or in the Network Domains report shown above):

Filter String:
.*ReplaceWithCompetitor1.*|.*ReplaceWithCompetitor2.*|.*ReplaceWithCompetitor3.*
About the Author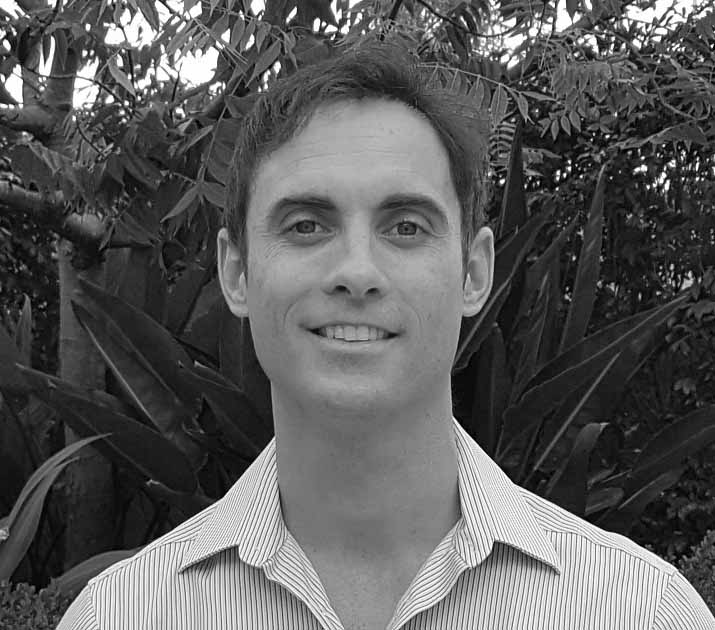 Matt Murfitt is Director of Data and Analytics at Goji. He specialises in Search, Analytics, Display, Social and Personalisation across a broad range of industries. He has a passion for data-driven, customer acquisition and improving the customer journey. He is qualified in both Marketing and Psychology and routinely works with brands both big and small to increase their web traffic, leads, improve customer experience and collaborate across new and challenging projects. His passion for technology is rivalled only by his curiosity of what it's capable of to improve our lives.
About Goji
Goji is one of a select few specialised Adobe Partners in the Asia Pacific region. We solve two key challenges for our clients:
Technical implementation of Adobe platforms that maximise profitability, efficiency and customer experience
Campaign execution to successfully advertise, personalise, analyse and optimise company web assets
Platforms we specialise in include:
Adobe Analytics
Adobe Audience Manager DMP
Adobe Advertising Cloud – across Video, Search, Display, Programmatic
Adobe Target
Make contact to start a conversation about how we can help you achieve your goals.