We provide first rate, competitive SEO consulting for companies across Sydney, NSW and Australia. For more information, contact us using our contact form. Read more on our SEO consulting service below.
See how our Sydney SEO consultant massively increased one client's organic traffic using these steps, including whitehat SEO tactics, advanced Google Analytics and Conversion Optimisation.
Our SEO Service Packages
Great SEO starts with solid foundations.
We like to be fully transparent in our operations and train our clients as we work to optimise their websites. By auditing your website for correct SEO practices, we make sure your site is fully optimised in the eyes of the major search engines.
This means that the site can be crawled and indexed more fluently and more frequently, allowing for better results in the long term. We have worked with a large number of businesses in and around NSW, Sydney and across Australia to ensure their websites follow SEO best practices and are easily found in major search engines.
At Goji we take into account factors such as information architecture, usability, links, as well as the more conventional factors – titles, meta data and keywords. A thorough onsite optimisation of your site is best before progressing onto other areas of search engine optimisation, such as content strategy and outreach.
We also use white hat offsite SEO strategies to ensure your site can be easily found online and will generate you more leads? Find out how it works by giving us a call on the number below. Our analysis takes clients through the entire spectrum of SEO and explores how it an enhance your brand's Digital Strategy, including:
Freelance SEO Consulting Services 
Technical SEO Services – Website Code and Loading Enhancements
Sitemap generation and submission
Keyword research and content calendar generation
SEO audits
Content and Copywriting services for Organic Search
Offsite Partnering for Increased Organic and Referral Web traffic
Local SEO services for your business
SEO Content and Copywriting
Having trouble knowing what to write about? Goji Web can provide you with a specialised copywriter to give your content the professional edge. The provision of good quality website content is one of the biggest hurdles our clients commonly face.
Therefore we are proud to provide this service to our clients to overcome the time pressures associated with generating premium site content. As part of our SEO service, we also offer Content Strategy consultation that include keyword research and tailored reports, to help you understand where there are opportunities to be found.
Local SEO Services for my business
Letting Google know where users can find your business is paramount in making sure your site supplements your in-store sales. Any bricks and mortar business should have a Google Places listing to ensure your customers can find you, wherever they are. At Goji, we can arrange to have your site listed with Google as quickly as possible.
Read our testimonials
The guys at Goji made quick and easy work of implementing our Google Analytics. With their ongoing guidance we were able to refine our marketing efforts to ensure we spent the dollars where it counted based on what channels provided the most valuable web traffic. Social media, Adwords, SEO, programmatic buyouts – its all guesswork unless you have someone to take you through the in's and outs. I cannot recommend them enough.
Denise Hurford, Learner's English, New Zealand
Our business was small and needed a helping hand to be recognised in Google's search results. This team has worked wonders to get us up onto the first page of Google for terms that we never thought we could obtain. Five stars!
Melissa Eggleton, Vernon Partner's Real Estate, Mosman, Sydney
View more of our premier clients
Our SEO Consulting Services – A Case Study
With all the questions floating around regarding the methods used to effectively execute an SEO campaign, we thought it time to share how we used SEO to increase one of our major, contracted client's organic web traffic nearly 4 times over in less than 3 months.
Not only did we wish to prove that SEO is indeed, still a valid digital marketing tactic with numerous payoffs, but also to challenge the long-held belief that SEO is a necessarily long process that requires months, if not years to get results.
Our client's website represented a little-known brand, with low to moderate top-of-mind awareness throughout the general public of Australia.
The primary mandate was to increase organic web traffic and sales leads using the resources that we had available, including our own skills and tools, CMS access to the site, the ability to lodge tickets to the offshore hosting and technical support team, and all required dialogue with team insiders and stakeholders.
SEO Consulting Service Implementation – Step by Step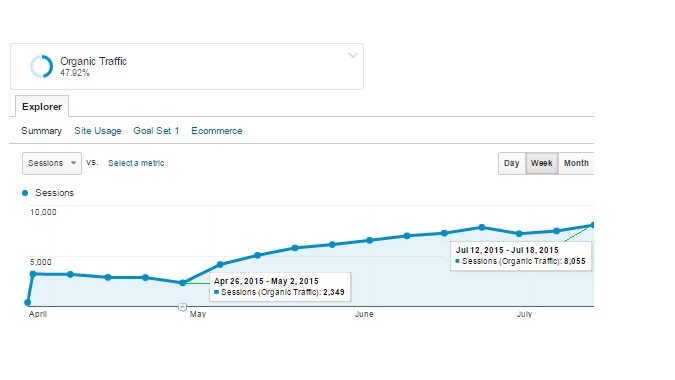 Step one: Test the site
Our SEO Consultant first looked at a range of factors on the site that we know influence site rankings in Google's index, particularly around performance, responsiveness, credibility and uptime. Based on this we were able to identify bottlenecks and hindrances to both search engines crawling the site and an effective user experience.
Step two: Make the changes
Using both our own resources and those of the technical team, we were able to get corrections made in stages. Ranging from DNS enhancements to correct SSL implementation, CSS and JS improvements and other file optimisations, we drastically reduced website loading time. Content optimisations looked at improving sub-par H1s, metadata, alt tags, file names, page titles and content – which had likely previously confused search engines and users alike.
We gained access to the website's Google Webmaster Tools account to ensure all changes were submitted and measured in quick time. Numerous errors in the website's XML sitemap were also corrected, as was the usage of the rel=canonical tag for duplicate content. In addition to all of this, we examined from both 'gut-feeling' and data-driven aspects, the content of the individual pages and whether they contained a good amount of target keyword density across each and every element.
Using GWT, we analysed broken links and made all best efforts to either fix these at the source or redirect where applicable. In essence – if it could be fixed, we fixed it.
Step three: Evaluate the results
While organic traffic was our primary mandate, this alone could only provide a one-dimensional indication of whether our actions above have achieved a positive effect. To go further, we had to look at individual keywords and how they compared over time, both in traffic and in search engine rankings. To do this, we produced reports such as the below, using Google Analytic's Queries report.
From the above, we could see that comparing two separate week's worth of data, approximately 2 months apart – provided greater insight into how the search engines viewed the site in relation to top ranking keywords. While impressions were down slightly overall, this was less important than the other 3 factors pictured above – clicks, CTR and average position.
Click-through-rate (CTR): Primarily a measure of how well the page titles, meta descriptions and URL address the user's query – CTR is the most important of the above metrics. This is not only because it addresses the user's need for information, but also because we know that Google uses CTR as a factor in ranking search listings. We can see from the above table that, although not all of the pictured query's CTR have increased, it has for 3 out of 4 of these, and the average CTR has increased by over 3%! That is a huge increase over a 2 month time period that increases other favourable metrics, such as increased clicks and total organic traffic.
Clicks: The measure of how many people click on an organic search listing for each query – thereby increasing our primary key performance indicator  – organic web sessions.
Average position: The position in Google search results pages that the site ranks for a given keyword or key-phrase. This metric is a good indicator of how individual keywords are performing on the site over time. Although the overall average stayed the same between the two periods, a number of high-yield key phrases did increase dramatically. This is what accounted for the higher overall clicks and click through rate, thereby leading to higher organic traffic levels, even though average position across all terms remained the same.
Impressions: While a mild indicator of how well the site is appearing in organic search listings, impressions may be affected by other variables such as external trends, seasonality or news around the brand, product or service. One useful option can be to compare impressions over time (for example, over 12 months or more) to search behaviour as seen in Google Trends, to eliminate seasonal trends as a factor in website performance.
Step four: Refine and re-evaluate
Once the first version of our high-performance, supercharged site was live and performing as expected – we revisited our objectives. What could we do even better? Not only for increased and sustainable gains in traffic, but also to help our client maximise these benefits for their greatest potential. As we progressed through the campaign, we continued to make site performance improvements that produced favourable web metrics.
Increased content, competitive analyses and exploring new areas for development would continue to improve on these foundations. By leveraging on our greater organic traffic, we set out to define and set up goals on the website. We harnessed this powerful feature in Google Analytics by assigning a monetised goal to each product's page view.
The purpose of this was two-fold. By assigning a dollar value to each product page view, we could show senior Marketing Managers how website page views could roughly translate to return on investment for the company. By merging these page views with events triggered by clicking on the "Where to Buy" – we were able to ascertain the user's commercial intent. Secondly, we could set about defining a path to these goals, aka 'conversions'.
In improving our path to conversions we actively embraced a conversion optimisation mentality – thereby analysing which users – organic, paid, direct or referral, were more likely to convert. Additional UX enhancements could then be built based on this data. For our immediate client contacts, an essential part of progress was not only achieving results, but communicating these clearly.
After all, Marketing Managers need to justify their marketing spend (and even their own positions) with a tangible return on investment for the company. Using the conversion reports (with goals assigned a monetary value) allowed this level of reporting that general marketers could relate to, solving the age old problem of understanding which half of advertising spend brings in the company's revenue.
More Digital Marketing Services
Google Analytics Training – Sydney and NSW
Google Analytics Help and Support
Google Analytics Services – Sydney and Australia
Conversion Optimisation Services
SEO Consultant Sydney, Australia
Did you like this article?
Please let others know by sharing it or making a comment!
About Goji Web SEO Services
Goji is a Digital Marketing consultancy, specialising in onsite SEO services, Google Analytics services, conversion optimisation and digital strategy. For more information on our Sydney SEO services, contact us using the information below.