Whether you are a General Marketer, Content Writer, a CRM expert, Paid Search, SEO or Marketing Automation practitioner – one thing you will come across at some point is the challenge of generating quality content for your audience.
Sounds easy right? Well its not always that simple.
Creating content that gets results starts with pulling the right data. And you can start by using from tools that are accessible to all of us.
Perhaps the greatest tool of all for getting data-driven insights is Google Ad's Keyword Planner tool.
Since we have a whole lot of experience with this tool, we thought we'd share our quick 'how-to' guide for building your very own content strategy in mere minutes.
Step 1. Create a Google Ads Account
If you aren't already, sign into a Google account and visit the Sign Up to Google Ads page.
Follow the Start Now prompt and on the page labelled: What's Your Advertising Goal? – find the link called Skip the Guided Setup and click.
On the next page click on Create an Account without Campaign.
Confirm your business information and submit.
Click on this link to access your Keyword Planner.
Step 2. Pull Data from Keyword Planner
After accessing Keyword Planner you will be greeted with the following screen:

Click to Find New Keywords.
We will use the terms "running shoes" as our example target keyword, but you can use as many as are relevant to your target audience, separated by commas.
On submission you will be presented with a full list of related keywords depending on your defined location and language parameters. Toggle to change these settings as required.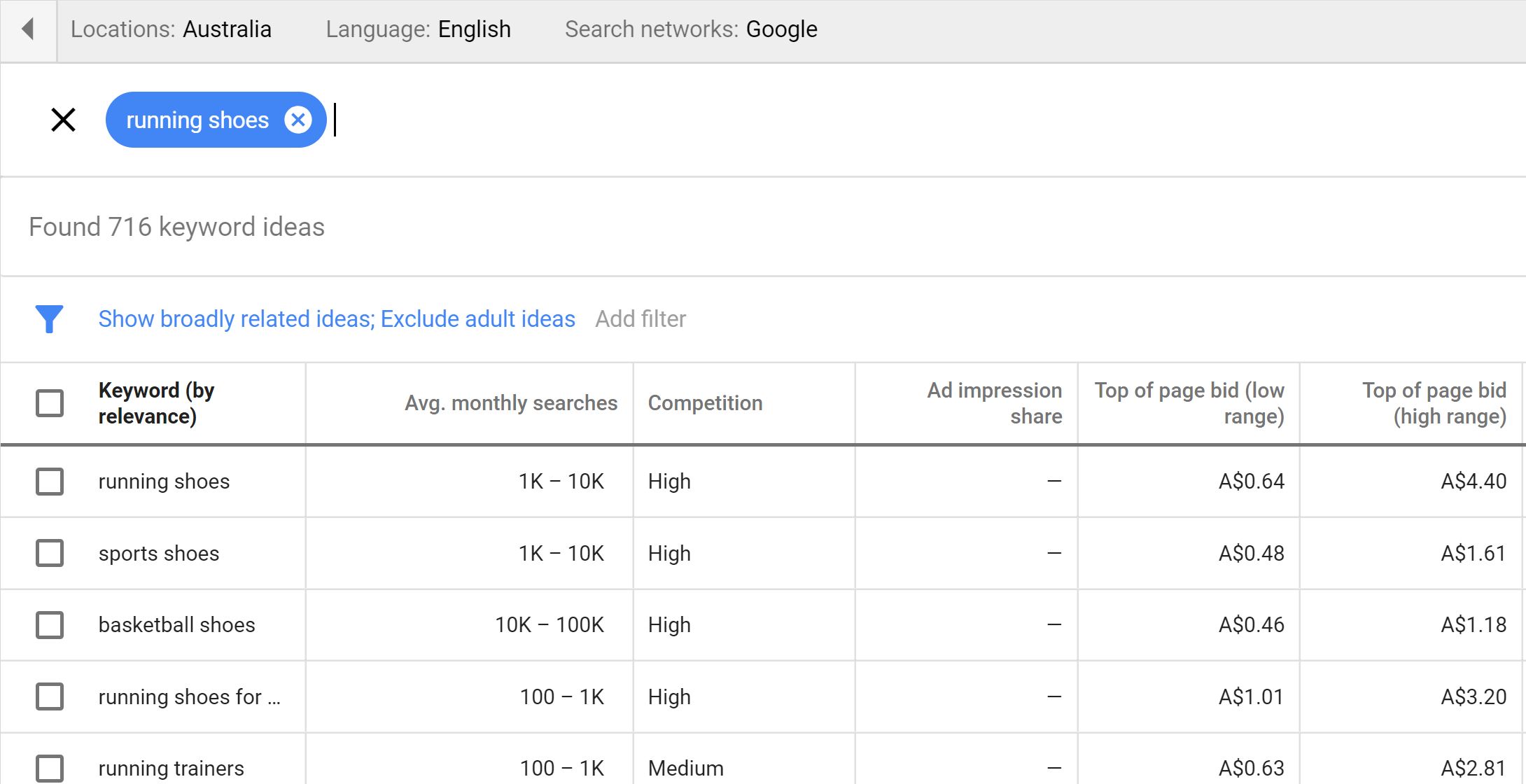 Click on Avg. Monthly Searches to sort by Search Volume (highest number should be at the top).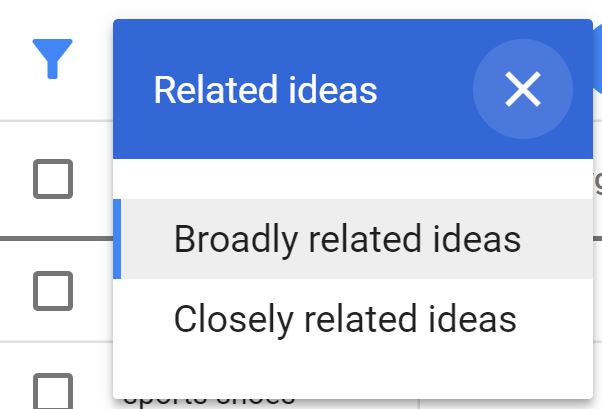 Click on the filter icon to toggle between Broadly and Closely Related Ideas.
Scroll over the data to see which of these settings best suits your requirements.
Once you are satisfied with your selection, click to Download Keyword Ideas.
Step 3. Sort Your Keyword Data
Open your data export in Excel.
Delete the top two rows (settings and dates).
Sort by Max Search Volume, from largest to smallest.
Step 4. Select Your Target Phrases – Now with Contextual Data
Now that you know how popular each of your related keywords are, you can select terms based on how much traffic you are likely to bring in (for Search Campaigns), or how much engagement you are likely to generate via Website and Email channels.
Scroll through the data from top to bottom, highlighting only phrases which relate to your desired content.
This data can also be used to prioritise which content should be generated first. You can also use it to brainstorm new content ideas for your business, or to discover new business opportunities, and even to validate business ideas by establishing whether users are indeed searching for a given product or service.
Next, group the similar phrases into 'themes.'
For example, if I am an online retailer who sells running shoes, my themes might consist of:
Running Shoes on Sale
Running Shoes Sales
Running Shoes Specials
Deals on Running Shoes
Get Specials on Running Shoes
Blue Running Shoes
Blue Sneakers
Running Shoes
Blue and White Running Shoes
Blue Runners
Step 5. Use Your Themes (Keyword Groupings) to Plan Your Content
There is no end to the number of uses for this data, however the most important concept to consider when applying your content is that of keeping relevance to your target market and a consistent message.
Keep your themes tightly grouped and do not try to stretch the boundaries of each theme too far. It's better to create another theme if you feel you are pushing beyond 10-20 keywords per theme.
Each theme should help you to write a new article, web page or email that you can target your audience with.
In paid search, or in SEO – these can also be used for search engine elements such as page titles, meta descriptions, ad text, ad extensions or ad headlines.
So now that you have the data, go forward and plan, write and captivate your audience!
We hope this guide will help you to improve your online presence, as well as to provide data behind how you engage with your audience. As this is just one of the many tips that we at Goji Web use in our Digital campaigns, please reach out with your thoughts on more tips you might like to know more about.
Reach out at info@gojiweb.com.au for more information.